Subscriptions
Alongside our Classic box we have Vegan and Gluten-Free boxes available.
Discover the Goodness box that suits you: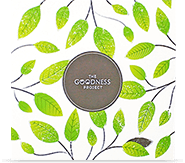 Living a Vegan lifestyle is all about being healthier, greener, kinder to animals and to our planet. But sometimes it is hard to find alternative products or you just want to discover something new! Well, here at the Goodness Project we source the international market for the latest and best Vegan goodies. Each month, we curate a box filled vegan, cruelty-free products for you to enjoy.
all natural, no nasties!
vegan, cruelty-free products
exciting new selection every month
Starting from £8.50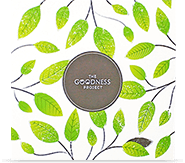 The Classic box is our most popular box. Each month we send you a box filled with the latest organic, natural food and lifestyle products to help you make healthier choices. With alternatives to everyday favourites from luxurious boutique brands and healthy options to treats included, the Classic Goodness box is designed for everyone to enjoy.
all natural, no nasties!
vegetarian & vegan products
exciting new selection every month
Starting from £8.50
The

Gluten-free
Goodness
box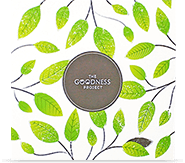 We know how hard it is to have a regular supply of gluten-free alternatives for those everyday staple foods, as well as getting your hands on new products. That's why we have created a Gluten-free box to help you discover new, tasty gluten-free food products alongside some natural products each month. It has never been easier to live a healthy, gluten-free lifestyle.
all natural, no nasties!
gluten-free products
exciting new selection every month
Starting from £8.50
The difference between our box sizes?
Not sure which box to sign up to? Find out the difference between our box sizes:
Letterbox-friendly
Goodness box
from £8.50
A little treat box of 4-5 different healthy snacks to energise you and discover new favourites.
Mini Goodness box
from £9.95
The Mini box is like a taster box featuring 5-6 full-size foodie products and is a great way to discover new natural brands.
Maxi Goodness box
from £17.95
The Maxi box has 8-10 products and it contains a fuller selection of exclusive products. Body care products are featured occasionally too.
How it works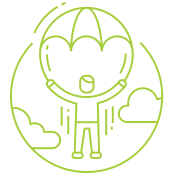 Join us
Join us and try the latest healthy and natural products every month or treat a loved one with a Goodness package. Choose your Goodness box type, pick your size and select the length of your subscription.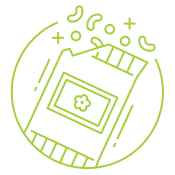 Discover and Enjoy
We read all the labels for you and hand-pick the latest healthy, natural products that are good for you, your family and the planet. After joining us, all you need to do is sit back and wait for your goodies to be delivered to your door. All subscription boxes ship between the 1-5th of each month.
Example: If you've placed your order between the 1-30th of November, your first Goodness box will be shipped between 1-5th of December. Please note that we are unable to dispatch earlier or delay shipments.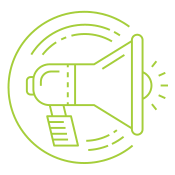 Share
Sharing is caring! With 1% of our net profit going to the charity, each purchase is helping a good cause. We encourage you to share your box with friends and family, so even more people get involved with The Goodness Project.

How we curate
We have developed a unique set of guidelines for our curation process to ensure only authentic products are featured in each box. We search the market constantly to select only the best natural products that have the green light from industry experts and independent organisations. Each product falls into one or more of the following categories:
Organic
shows that the produce has been allowed to develop naturally without chemicals, pollutants or other undue interference.
Fairtrade
is an ethical necessity: it's about better prices, decent working conditions, local sustainability, and fair terms of trade for farmers and workers in the developing world.
Eco-friendly
refers to products created in harmony with ecosystems or the environment, causing minimal or no disturbance at all to the natural world and helping to protect our planet.
Gluten-free
means that the item is completely free of ingredients derived from gluten-containing cereals: wheat, barley, rye, and triticale, as well as the use of gluten as a food additive.
Vegan
denotes that no animal or animal by-products have been used in this item, and reassures you that the products have not been tested on animals.
Chemicals-free
shows you that the product contains only natural ingredients, is completely non-toxic, and has not come into contact with chemicals.
Cruelty-free
lets you know that products and their ingredients have never been tested on animals.
Planet positive
is our guarantee that businesses and products have a positive impact on the community and a strong social responsibility towards people and the planet.